Resell Print? Please check us out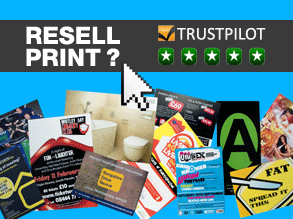 We have offered a white label online printing service for Print Resellers and Creative Professionals since 2005.
We strive to offer competitive trade prices, excellent customer service and quality products. We are rated 5 Stars on Trustpilot and hope this goes to show what sort of company we are.
All our printed products are shipped completely plain cover with no mention of us and we can deliver direct to you or your customer. We offer FREE UK mainland delivery and most products are dispatched within 2-4 working days.
Pricing Example (All Litho printed with FREE UK mainland delivery)
500 x 400gsm Matt Laminated Business Cards £26
1000 x 120gsm Laser Guaranteed A4 Letterheads £57
5000 x 150gsm Gloss A5 Leaflets £67
5000 x 300gsm Gloss A6 Flyers £65
Sound good? Please take a look at our Print Reseller Scheme.